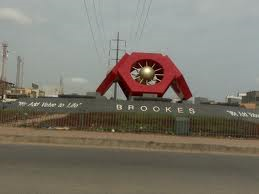 Korangi Industrial Area
(KIA) is located in
Korangi Town
, in
Karachi
,
Sindh
,
Pakistan
. It is one of the largest industrial areas of Pakistan. It houses approximately 3000 facilities for various industries, including textile, steel, pharmaceutical, automobile, chemical, engineering and flour mills. In addition to this it also includes
Mehran Town
housing scheme initiated in 1973-74 by then Prime Minister
Zulfqar Bhutto
, for Pakistani Nationals working abroad.
On 14 May 2009, Sindh Minister for Local Government Agha Siraj Khan Durrani suggested renaming the Korangi Industrial Area to "Benazir Industrial Estate", putting it at the Union Council level for approval and then taking it up to Parliament for final approval. Addressing the members of the
Korangi Association of Trade and Industry
(KATI), the minister stated that Korangi Industrial Area is the largest industrial estate in Pakistan and has played a vital role in contributing revenue to the national exchequer as well as creating employment opportunities.