Saint Patrick's Cathedral, Karachi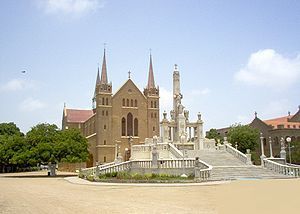 Saint Patrick's Cathedral, Karachi.
The Gazetteer of the Province of Sindh provides a description of the cathedral:
"Its exterior is not ornamental, though striking from a distance, but money and

art

have been lavished on the interior. The

chancel

, itself spacious, acquires a special impressiveness but its additional height, while the noble contours of the aspiring

altar

are seen to the best advantage. The whole interior is painted in oil and the windows are all of

stained glass

, the members of the congregation."
In the 1920s, 30s, 40s, 50s, 60s and 70s, the Cathedral had a polyphonic choir of about thirty members; The members were: Sopranos: Jessie Fernandez Olive D'Costa Mary D'Silva Hilda Freitas Winnie Lobo Carol Lobo
Altos: Essie Menezes Emma Correa Nita Dias Maureen Rodrigues
Bases: Eustach Caldera Sonoo D'Abreo Austen Frietas Isaac Noronha R.C Fernandes
Tenors: Vincent D'Abreo Vincent Lobo Glenn D'Abreo Hector Lewis Joseph Moniz
The choir was conducted at first in the 20s and 30s by Carlos Fernandes, who was replaced by C.M. Lobo until the early 70s when he was replaced by his nephew Vincent Lobo. The organists for the choir had been C.M. Lobo before he took over the position of director and then Leo DeSousa who was followed by Fr. Ronnie Colaco until the choir folded in May 1974. It was never replaced by a polyphonic choral group of its previous capability.