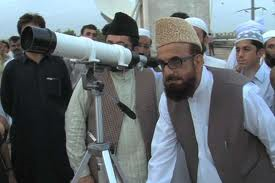 Mufti Muhammad Muneeb ur Rehman is the current chairman, Central Roet-e-Hilal Committee in
Pakistan
.
Biography
Born on February 8, 1945 In Mansehra Pakistan, Prof. Mufti Muneeb-ur-Rehman completed his Masters in Islamic Studies. Besides doing Bachelors in Law and Education, he also received education in Arabic Languages.
Work
He has more than 30 years experience of teaching Tafseer,Hadith, Fiqah, Arabic Literature and other Islamic subjects to graduate and post-graduate levels. Prof. Muneeb-ur-Rehman has also authored a number of books including Tafheem-ul-Masail, Qanoon-e-Shariat, Usool-e-Fiqah Islam, and so many others. Prof. Muneeb-ur-Rehman was a member of the Pakistani delegation which visited UK in February – March 2006 to gain firsthand knowledge as to how Madrassas and Islamic schools operate within a state-regulated system in the UK. He has also attended a number of international conferences in the USA, UK, Norway, Hong Kong, Saudi Arabia, South Africa and elsewhere.
[

1

]
Positions
Chairman, Central Roet-e-Hilal Committee,
Pakistan
President, Tanzim ul Madaris Al Arbia
Pakistan
President, Darul-Uloom Naeemia,
Karachi
Professor, Jinnah University for Women,
Karachi
.
Prof. Muneeb-ur-Rehman serves as a member board of studies Federal Government Urdu University and Board of Intermediate Education,
Karachi
. He has also served as a member board of studies, Faculty of Islamic Learning, and Arabic Department at the
University of Karachi